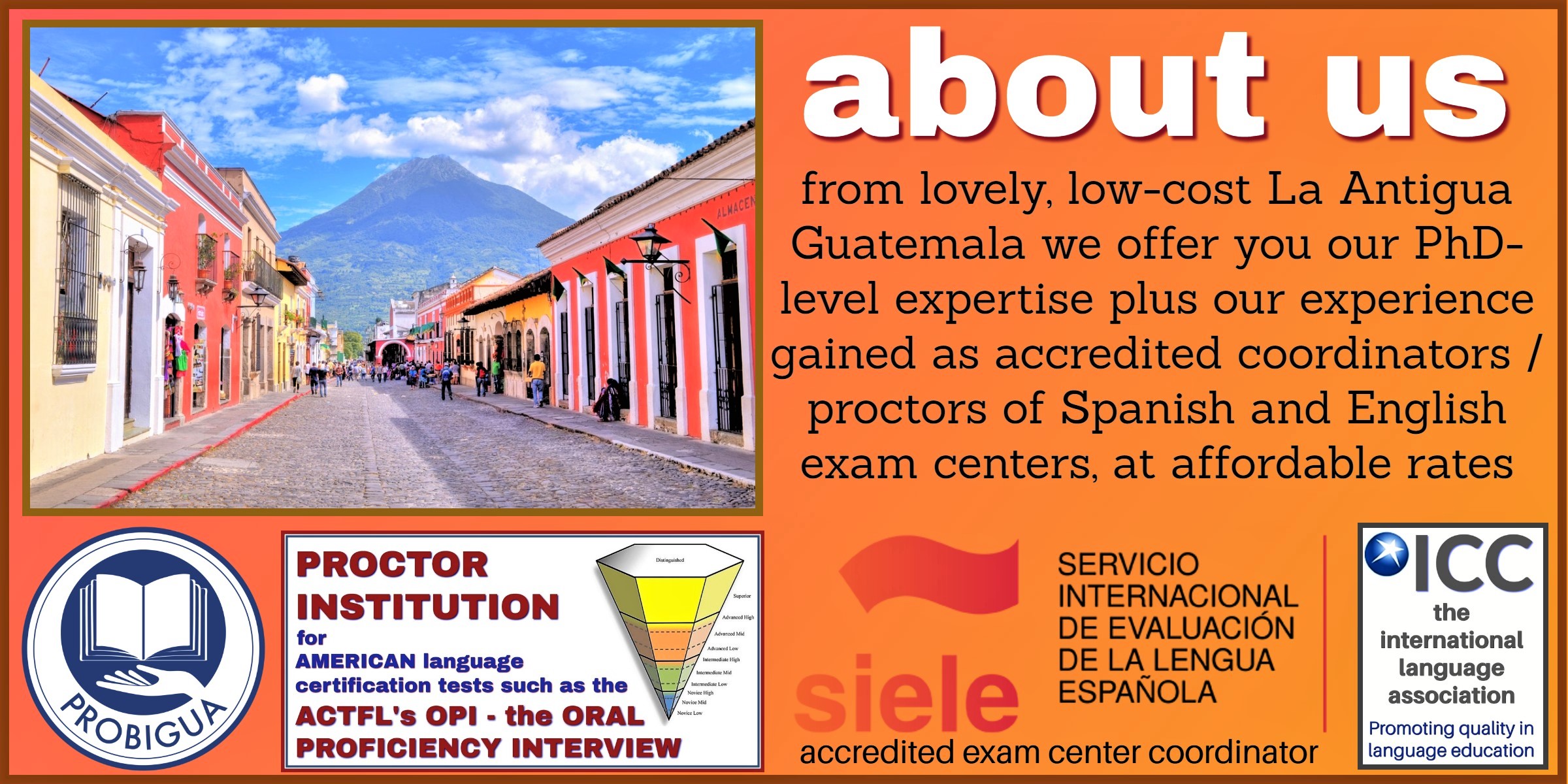 Mónica Mendez de Steenkamp (President & Head Tutor)
​Mónica, who studied at the University Rafael Landivar in Guatemala, has more than 20 years experience teaching Spanish as foreign language. For much of that time, she has been specializing in teaching Spanish online.
​Mónica is highly experienced in preparing students for exams of communicative competency in Spanish, such as the DELE exam of the Instituto Cervantes of Spain, or the DELE's new online twin, the SIELE exam, or for the OPIc of the USA.  She also specializes in tutoring Vocational Spanish to seminarians and missionaries, as well as coaching professionals in the medical field.
​We pride ourselves on our ability to deliver a bespoke service, coaching students 1-on-1 with individually-designed study plans tailored to YOUR personal goals, level, learning preferences and aptitude. Mónica's greatest professional satisfaction and personal joy comes from the number of students who've become firm online friends, because of our very personalized (and thus highly effective) mode of tuition, such as our FLEXI-Spanish package.
Dr. Willem Steenkamp (emeritus director of studies)
​​​Willem is a retired ambassador (having represented Pres. Nelson Mandela) and a former head of the South African diplomatic academy.

He holds the DELE C2 diploma (mastery of Spanish) of the Instituto Cervantes of Spain.
Willem also holds certificates from the Universities of Cambridge and Southampton in Teaching Online and Understanding the Teaching of Languages, as well as from the University of Leicester in Applied Linguistics.
Apart from his Law degrees (he is a retired lawyer) Willem also has a doctorate in the Social Sciences.
He is coordinator of the SIELE exam center in La Antigua and OPIc proctor. He charitably volunteers his expert guidance to our team and students. ​And yes, as you may have noticed from the surnames, we are a family-run business: not a big, impersonal conglomerate. 

Excellentia Didactica is the specialized language course design & online tuition division of GRUPO EXCELLENTIA PANAMERICANO s.a. (sociedad anónima – shortened as: GREXPA s.a.), a limited liability company duly incorporated in the Republic of Guatemala, Central America.
The registered address of GREXPA s.a. is: 130 Calle del Agua, Aldea Santa Ana, La Antigua Guatemala, Department of Sacatepéquez, Republic of Guatemala.
​The incorporation particulars of GREXPA s.a. are: Registration # 129433, Folio 144, Libro 223. The tax registration number of GREXPA s.a. is: NIT 9304362-7.